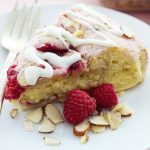 I made these amazing scones last night for book club. I highly recommend using frozen berries instead of fresh or you will have a pink gooey mess. It might also help to roll the berries in a little flour before folding into the dough. Both the dough and the topping needed a lot more cream/liquid. Photo and recipe are courtesy of lecremedelacrumb.com.
Raspberry Almond Scones
Author:
lecremedelacrumb.com
Recipe type:
dessert, breakfast/brunch
Ingredients
2 cups flour
3 tablespoons sugar
2 teaspoons baking powder
½ teaspoon salt
6 tablespoons butter, softened
½ cup + 2 tablespoons heavy cream
1 teaspoon almond extract
1 egg
½ cup raspberries
1 tablespoon sugar (for topping)
1-2 tablespoons shaved/slivered almonds
glaze
1 cup powdered sugar
¼ teaspoon almond extract
1½ tablespoons milk or heavy cream
Instructions
Preheat oven to 425 degrees. Add flour, 3 tablespoons sugar, baking powder, salt and butter in a bowl and mix until well blended. Add egg, 1 teaspoon almond extract, and heavy cream and mix until soft. Gently fold in raspberries (it's okay if they turn the dough pink a little bit).
Knead dough 1-2 minutes on a lightly floured surface. Place a sheet of parchment paper or aluminum foil on a baking sheet (or you may grease the pan with cooking spray). Transfer the dough to the baking sheet. Pat the dough into into a circle about ½ inch thick. Use a pizza cutter to cut dough into 8 wedges and gently spread the wedges out so they aren't touching. Sprinkle wedges with 1 tablespoon sugar and slivered almonds.
Bake for 10-12 minutes until scones turn a very light golden brown. While scones are baking, whisk together all ingredients for the glaze. Drizzle over the scones and serve warm. Enjoy!